Over the years us Saab lot have noticed you Vauxhall lot pillaging 9-3s for the B204 engines and dropping them in your cars. So now my heavily modified 9-3 is dying a death of a thousand cuts, it occurred to me that maybe for someone planning a conversion this would be the ideal donor.
Problems killing the car:
1. Bulkhead is split
2. Rust hole on the chassis rail (MOT advisory last 2 yrs)
3. Last week a knock started coming from the front end (it sounds like a drive shaft would, but it only happens on a lift off- throttle on, or brakes on, it doesn't make a sound). But weird, not looked into it.
4. Last week I accidentally snapped the cup holder out of the dash
5. It's all getting a bit tatty
It drives fine (that's a bit of an understatement), has MOT until Jan, but I'm not pouring any more money into her.
She is a 9-3 3 door coupe LPT (or was, anyway). Mileage is 153666 but that's really pretty irrelevant because almost nothing on it is that age. So the spec then:
Brakes
308mm 9-5 Aero front brakes, disks in very good nick, almost new. I have some braided front hoses for these that I have not got fitted but you can have.
DS2500 front pads that have done literally 600 miles- almost brand new.
Rear disks and pads also 600 miles old
Handling
Bilstein sport front dampers with Vogtland springs. Nb. these are GM900 struts, which if you want to put them on a 9-3 means widening out the top mount holes on the car. GM900 strut tops also sit lower in the engine bay than 9-3 ones so it effectively lowers it twice. This car is very very low, speed bumps and even high camber roads cause scrapes. God alone knows how they would go into a VX, but there we are.
6 point subframe brace (which takes all the road scrapes and protects the sump and downpipe). I've seen some VX conversions make use of the Saab subframe, this stiffens it massively.
Abbot Racing rose jointed lower control arms
Genuinesaab 22mm rear ARB
Abbot racing rear strut brace (running across the boot)
Koni rear dampers with I THINK Eibach springs (can't recall- performance ones either way).
I also have a genuinesaab uprated engine mount that I bought second hand but never fitted (and this engine mount may actually be the cause of the new knock).
Under the bonnet
The engine was rebuilt completely 15k miles ago) by Martin @ Jamsaab. All new genuine shells and bearings etc. The balance shafts were removed and properly blanked off with specifically machined parts, which helps it rev.
At the same time the head was sent off and Volvo valve springs fitted for a 7K rev limit, valves were re-seated/lapped.
630cc Siemens Decca injectors
3 bar map sensor
1000 mile old Turbo Technics TD04 hybrid turbo (19T/GT28 type compressor wheel)
Maptun coolant hoses
SAS tubular manifold (nb. this moves the turbo, meaning the downpipe needed to be altered, the oil & water lines cut and shut, the power steering pump moved out on longer bolts, longer aux belt fitted).
3" full system straight from the turbo- no cat, no center silencer.
Speedparts air filter (including a very handy metal separator that isolates the filter from the heat of the engine bay)
Custom intake run
BCPR8ES-11 plugs
big FMIC
big bore custom alloy delivery pipe and top hat
large bore gas flowed throttle body
T7 APC
Forge atmospheric dump valve
Remapped by my own fair hand (and I've done quite a few maps for VX transplants as it goes. It's never been on the dyno but you're going to be looking conservatively at 330BHP and 330Ftlb, quite possibly a significant amount more than that (given that I got 290BHP and 320ftlb when it had a standard 9-5 TD04 on it). It'll do sub 5 seconds to 60 and is still pulling really hard at 160MPH. Really is a beast.
Transmission
15K mile old Viggen clutch
Lightened flywheel (also really helps it rev)
Jamsaab short shift
Interior (not really relevant here I wouldn't have thought).
Knock LED
2 bar boost gauge
Carbon fibre type dash
Aero leather steering wheel (pretty good condition, slight bit of surface wear in places)
Perfect SID (no missing pixels)
Cruise Control
Electric memory leather seats (drivers side seat is a bit tired really, the rest is all good. Bodged in wiring running under the floor mat).
Factory upgraded audio (not sure if it's AS1 or 2 or what- but it has an amp under the seat and when all the speakers are good (currently the passenger door one is a bit poppy) it sounds great.
Auto dimming rear view mirror
Exterior
Aero front bumper (very scratched and split due to how low the car is). Comes with standard bumper too (incl front fogs).
Aero rear spoiler
Aero double Y 17" wheels (with Goodyear Eagle F1 on the rear (c4mm) and Rainsport 3 (c5mm) on the front). These are 5 * 110 which I have a feeling fit a fair number of VX cars..
I also have a garage full of spares (including I am sure at least one spare gearbox, wing mirrors, headlights, and one or two DI cartridges) that comes with the car.
Nb. The DI that is in the car does work, BUT I'm seeing blinks from the knock LED above 1.3 bar of boost that is down to the DI. My spare DI(s) do the same. I have tested the car with two different known good DI from two remap customers and they totally eliminate all knock. I've just not felt the need to spend £200 on a new DI since it really doesn't affect the running.
In the process of writing up this list, I quickly totted up what I had spend on performance mods for the car (including where I bought second hand, what I paid second hand). The figure I got was £5870!
I really can't be doing with spending all the time and effort breaking her, so I'll let the whole car as-is go for £1300 OVNO. If that doesn't work I will break it (and so all of the above parts will come onto the market).
Nb. the plate is not coming with the car.
Drop me a PM if you want to have a chat and I'll give you my phone number. More than happy to run through any of the mods you like. If someone planning a conversion wanted some stuff (e.g. engine, loom. turbo, running gear etc), but didn't want other stuff, we could potentially come to a deal on certain parts. I'm up for negotiating & finding a solution that suits everyone, basically.
project thread
UKSaabs • View topic - Red's Dead- Long Live the Silver! Project Rocket Shed.
Photos taken today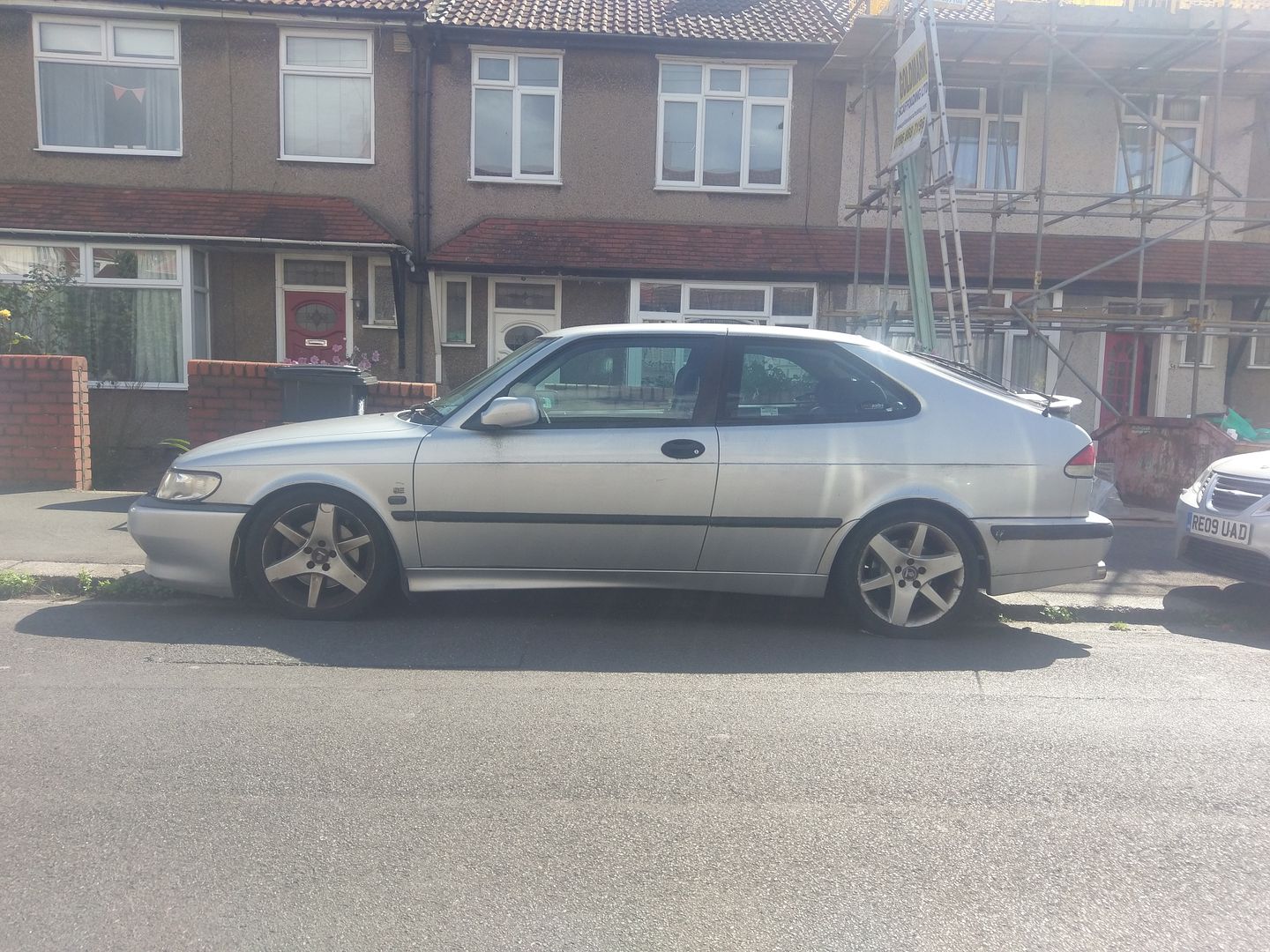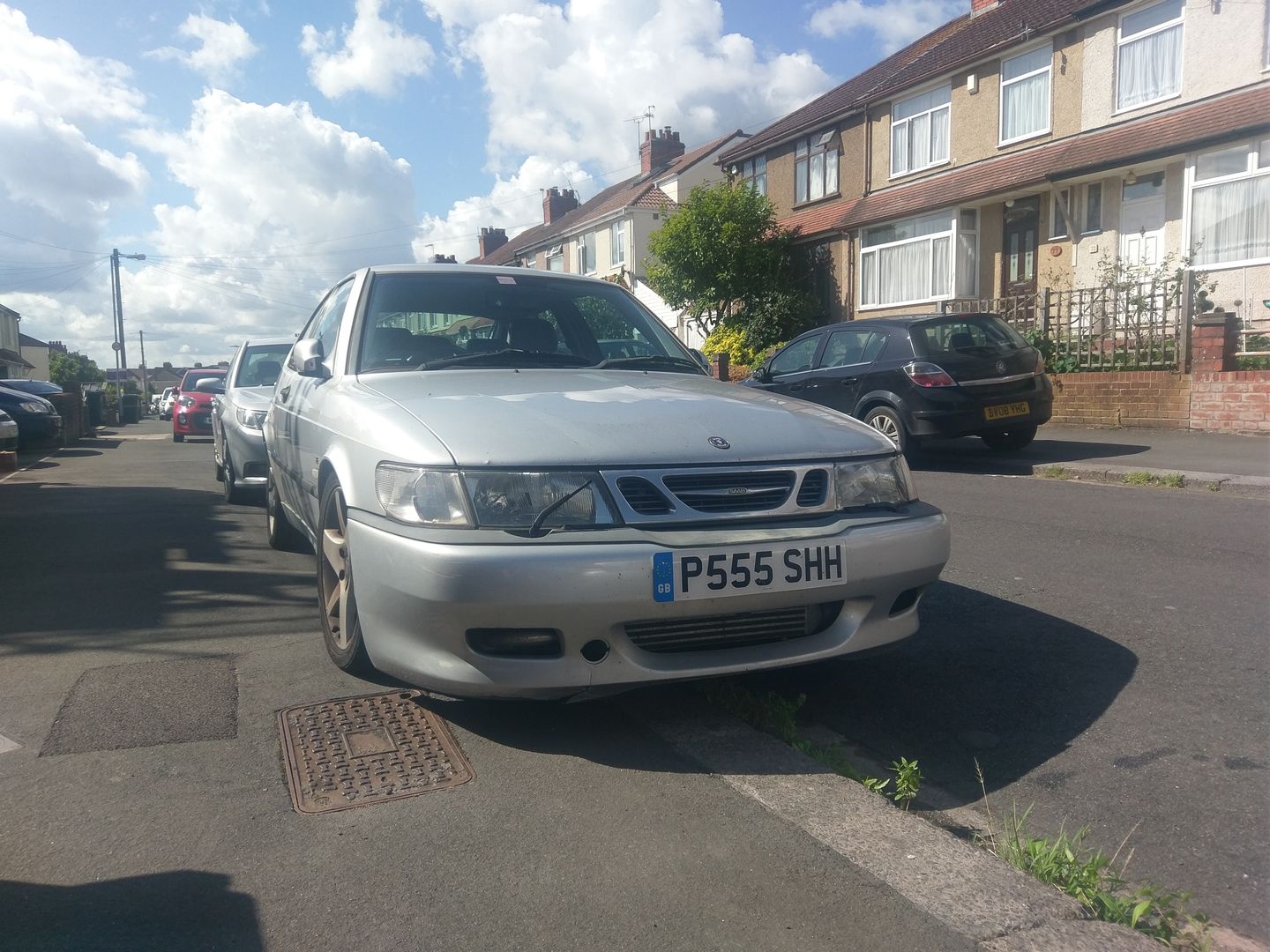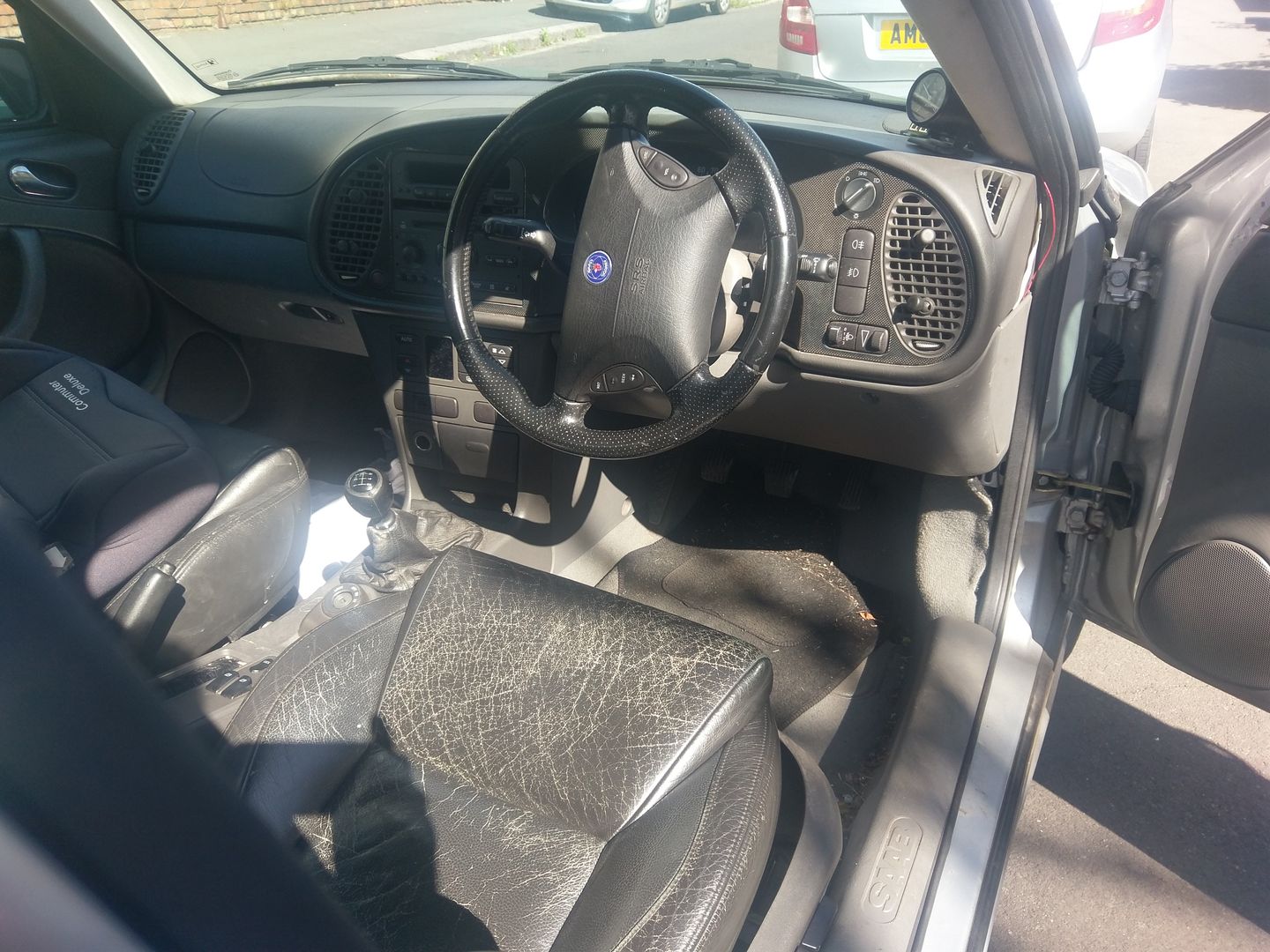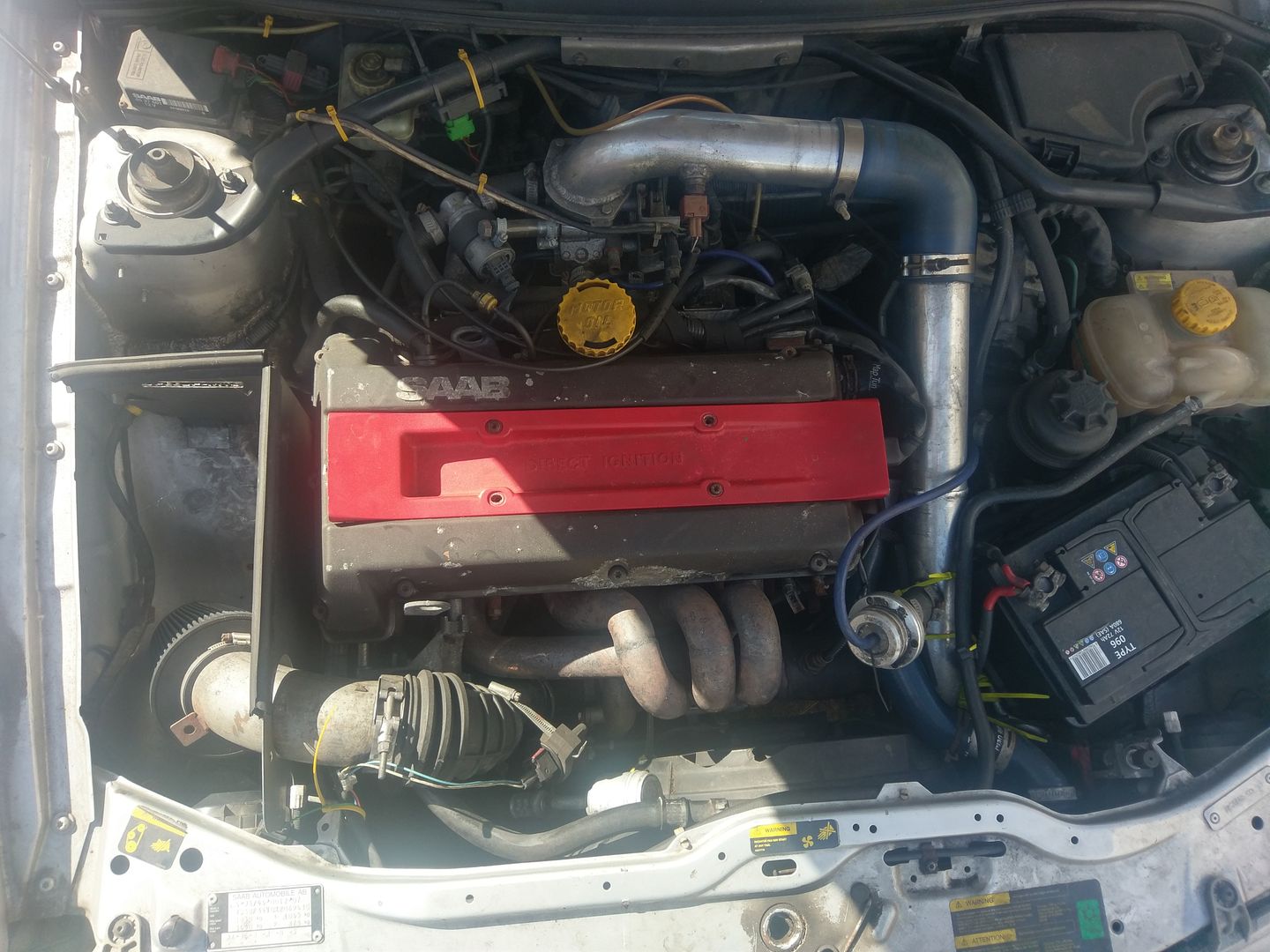 Last edited: